Could contextual & conversational banking be the next big thing in fintech?
Whatsapp has been around since 2009 and has grown into a massive social media platform. Its popularity has grown exponentially since then. Today, people spend more time chatting via WhatsApp than using email. Its popularity is simple – it allows people to connect instantly and effortlessly.
India is currently the most popular country for WhatsApp usage. Over 390 million monthly active users in India, accounting for about 15% of WhatsApp users worldwide. Over 100 billion messages are exchanged daily between instant messaging apps like WhatsApp!
Why it's no surprise that several startups in the Indian market are trying to tap into this massive potential of mobile messaging apps, some have even created their chat app, while others have made WhatsApp extensions. Before you start a conversation with your customers or prospects, you first need to understand what they want from you.
Are you thinking about how WhatsApp and banking are connected? In subsequent sections, let's see how your business can meet your customers where they are with conversational banking.
Deepvue's Digital Onboarding Solutions
Banking is an essential part of our daily lives. We use it to pay for things, get money out of ATMs, or make payments online. What if we could do all this without having to go through the hassle of logging into different websites or entering details every time? Is this what conversational banking does?
With conversational banking, banks can interact directly with consumers via messaging platforms like WhatsApp.
Conversational banking is an emerging technology that uses natural language processing to communicate with clients using messaging apps like WhatsApp. It is a type of digital banking that leverages AI and machine learning to provide a seamless experience between the bank and the consumer. Conversational banking allows financial institutions to deliver customer messages in real-time, based on their preferences and needs.
While banking and financial services have evolved over the years, these are yet to reach the zenith of a delightful customer experience. In other words, banks & legacy institutions are yet to set foot & operate where their customers are.
With our partners, we aspire to bridge this gap.
Deepvue-WhatsApp integration enables large and small NBFCs, Banks, FinTechs, and Businesses to provide banking and lending-related services to their customers with utter convenience. Customers can now avail of loans, complete their Know Your Customer (KYC) verification process, and make payments instantaneously, all with a single tap and via their preferred communication channel. Embedding banking & financial services seamlessly with the rest of your customers' lives.
Nowadays, companies can use chat-based platforms to support, engage with and serve their customers. All interactions happen in real-time and come with advanced automation capabilities to help run like a well-tuned machine.
We've combined financial services APIs and conversational messaging APIs to create a robust financial backend powered by a conversational and engaging front end.
Conversational Banking Models Businesses Can Build
Let's talk about how businesses can use WhatsApp and Deepvue.tech platforms to create workflows for their business.
Verify & Onboard Users Via KYC
Before onboarding users, running background checks and verifying their identities is essential for any business, particularly in the financial space, to know that people are who they say they are. With Deepvue integration, companies can perform Know Your Customer (KYC) or Know Your Customer checks and verification on users via WhatsApp messages.
KYC APIs run checks in the backend, bringing the relevant data required by businesses to peruse and make a judgment call. Furthermore, PAN & GSTIN verification can also be carried out in the case of onboarding businesses.
Simplified API endpoints make it easy for businesses and customers to complete the verification processes in real time and fully automated.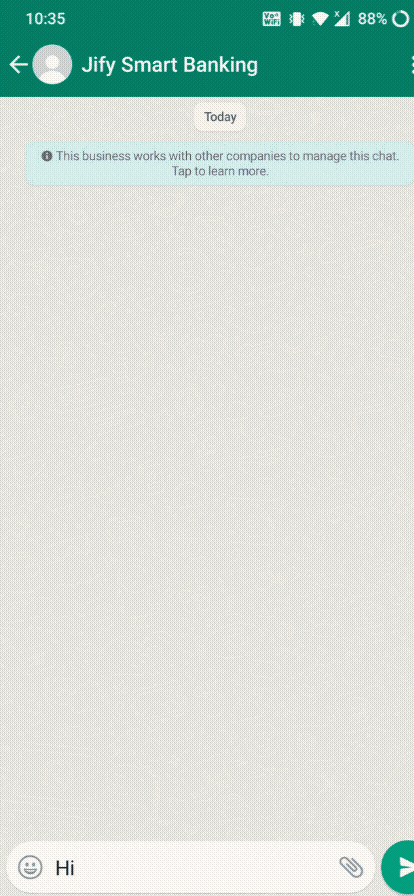 FinTech that's Transacting at a speed of Thought
As a FinTech, one needs to keep in mind that it's much more important not to slow down or be deterred by technology but instead move forward with innovations for the sake of transacting at the speed of thought.
"FinTechs should aim for transacting at the speed of thought, instead of transacting at the speed of technology." – Anubrata Biswas, CEO – Airtel Payments Bank.
We've got a lot to share with you about what's new and exciting in our world. We hope that you will join us on this journey. It is going to be a thrilling ride!